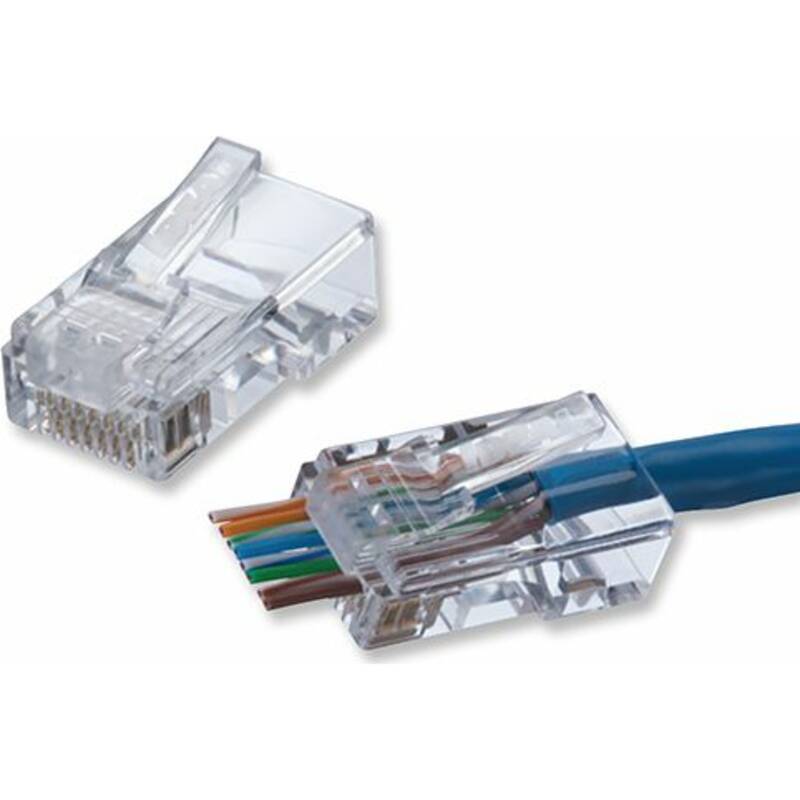 CAT5E FEED THRU MOD PLUG PK100
Part Code: 85-372
Feed-Thru connectors simplify modular plug terminations by allowing the user to verify wire order and conductor length before crimping the connectors to the cables. Simpler assembly, no wasted connectors.
Feed-thru design for wire order verification before crimping
Flush cut of wires to the face of the connector when used with 30-495 crimp tool
50μ gold plated contacts to minimize wear on individual contacts
3 prong contacts for secure connection to each wire
Designed for 100MHz application compatibility (CAT5e)
Fits cables up to .270" jacket diameter
Fits most cables with 24 AWG solid/stranded conductors
Compatible with 23 AWG solid conductors (CAT6) cables up to 0.041" diameter conductors
Recommended IDEAL cable jacket prep tool: 45-605
Recommended crimp tools: 30-495
Connectors can be crimped with a standard tool. Wire ends will not be cut with standard tool and must be cut manually.
View More
| | |
| --- | --- |
| Model | Plug |
| Type of connector | RJ45 8(8) |
| Shielded | no |
| Category | 5E |
| Connection type | Crimp |
| Requires termination tool | yes |
| Suitable for stranded core | yes |
| Suitable for solid core | yes |
| Colour | Transparent |
| AWG-range | 23...24 |
Key Features
Model: Plug
Type of connector: RJ45 8(8)
Shielded: no
Category: 5E
Connection type: Crimp
Requires termination tool: yes